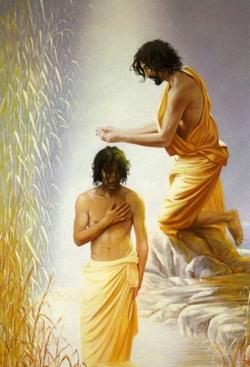 – Baptism -
From Padre Pio writtings:
According to St. mPaul, then, baptism by which we become children of God and heirs to His throne is a sign and a reproduction of the death of Christ and a sharing in His death. Baptism is a sign of the death of Jesus Christ because, just as Christ suffered by means of the Cross, baptism is conferred on us by the Sign of the Cross. Just as Jesus was placed in the sepulchre, we are immersed in the waters of holy baptism. Baptism is, moreover, a sharing in the death of Jesus, for it applies the mysteries it represents and thus produces the effects of our Redeemer's death. (Pietrelcina 19-9-1914, Ep.II,p.188)
From Padre Pio writtings:
The death of Christ is applied to us in baptism as if it were our own and as if we were crucified with Him. It is in virtue of this death that all our sins are wiped out, both sin itself and the punishment due to it. Finally, baptism is said to be a reprodusction of the death of  Jesus. According to St. Paul we have been baptized "into His death" that is, to imitate the death of our Redeemer. Hence, what the Cross was for Jesus Christ, baptism is for us. (Pietrelcina 19-9-1914, Ep.II,p.188)
From Padre Pio writtings:
For why do we live at all? As a result of our consecration at baptism, we all belong to Jesus Christ. Hence every Christian soul ought to be familiar with this saying of the holy apostle: " To me to live is Christ "(Phil 1:21), I live for Jesus Christ, I live for His glory, I live to serve Him, I live to love Him. (Pietrelcina 23-2-1915, Ep.II,p.356)
From Padre Pio writtings:
We must be watchful not to let the enemy find the way to enter our soul and conraminate the temple of the Holy Spirit. Oh, for pitu's sake, don't let us overlook this great truth for a single instant. Let us always bear in mind that at our baptism we became temples of the living God and that every time we turn our minds to worldly things, to the devil and the flesh which we renounced at baptism, we are profaning this sacred temple of God. (Pietrelcina 15-5-1915, Ep.II,p.435)
Edited by Melchiorre of Pobladura and Alessandro Of Ripabottoni
English version edited by Father Gerardo Di Flumeri O.F.M.Cap.
Third Edition 2002