Pietrelcina, your greatness is that you are the birthplace of Padre Pio. Sing his glory: your glory is inside this. Honouring him, you honour yourself.
You honour yourself
Oh Pietrelcina, consecrated ground,
Since the most remote centuries God
Directed his hope on you.
Your name joined to Padre Pio
From mouth to mouth is running around the world.
Don't envy the one who gave fame to art,
Who produced minds that science
Can respect as men of genius,
Who stood out for his war talent
Or who discovered  a source of richness.
A new kind of art runs after art;
Science chases an ever new science;
War covers with blood wherever it passes by;
a worm is enough to devour a throne;
one hour is enough to topple the sceptre.
Padre Pio is a great monument,
He's built by God 's hand.
His base is on the living rock.
He's eternal certainly more than any bronze,
And rises as far as the Sky.
To the whole world tell the admiration
For this new crucified Christ.
Don't wait that somewhere else is sung
The glory of a special life:
You honour yourself honouring his birthplace!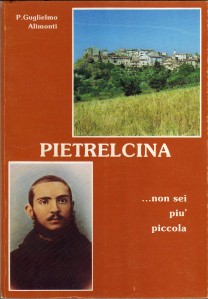 Translated by Marilisa Cannarsa