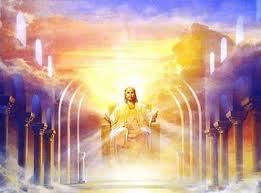 – Heirs of eternal life -
From Padre Pio writings:
This present life is given to us in order to acquire the eternal, and due to a lack of reflection, we base our affections on that which pertains to this world through which we are passing, sa that when we have to leave it we are frightened and agitated. Belive me … in order to live happily while on pilgrimage we must keep before our eyes the hope of arriving at our Homeland where we will stay for eternity, and in the meantime we should believe this firmly… He knows what we are, and he will extend his paternal hand to us while we are going through rough strstches, so that nothing will prevent us from running quickly to him. But in order to receive this grace, we must have total confidence in him. ( Letters III, p.730)
From Padre Pio writngs:
Live tranquilly and don't worry about anything. jesus is with you and loves you, and you correspond to his inspirations and grace which works within you … he who obeys, does not have to render account for his actions, and he must only await the reward from Jesus and not the chastisement … the obedient soul will sing victory … By the actions of divine grace in you, you even have reason to be comforted, and to hope and confide in God, as this is how he behaves towards souls who have chosen him as their portion and inheritance. The prototype, the example on which one should reflect and model oneself is Jesus Christ. ( Letters III, p.248/249)
From Padre Pio writings:
I fully understand that the soul will not enter into its eternal rest until it is lost forever in that vast ocean of goodness where it will know what God knows, love what he loves and will only enjoy what is a joy to him. Happy the souls whose names are written in the book of eternal life ! … O my Jesus, I will live this cruel life and hope and silence will be my strength as long as this wretched life lasts. Meanwhile, O my Creator and my God, make this bright flame of your love burn ardently in my heart. ( Letters I, p.725)
From Padre Pio writings:
Dear Father, If I could fly, I would like to shout, to cry out to everyone at the top of my voice: love Jesus who is deserving of love. But, alas, my dear Father, my soul is still strongly bound to the body and many are the sins which impede the flight of my soul… (  Letters I, p.330)… O only source of all my happiness, O my God ,how long must I still wait ? You see, O Lord, that there is no remedy for my malady. When, then, O Lord, when ? How much longer ? ( Letters I, p.726)
Letters I and III, Edited by Melchiore of Pobladura and Alessandro of Ripabottoni.
English Version edited by Father Gerardo Di Flumeri O.F.M. Cap.
II Edition 1984 and 2001