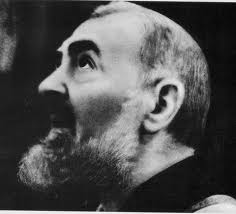 – Abduction of the spirit -
From Padre Pio writings:
Since then the merciful Lord has helped me powerfully by his grace. The Lord God has bestowed very great gifts on my soul. It seems to me that through this abundant help my soul has made progress …  The soul olaced in this state by the Lord and enriched with much heavenly knowledge ought to be more eloquent, but it isn't, it has become almost speechless. I don't know if this is something which happens to me alone. In very general terms and more often than not in words which are empty of meaning, my soul succeeds in expressing some small part of what the Spouse of souls is accomplishing within it. Believe me, my dear Father, all this is no slight torment for my soul. ( Letters I, 517/518)
From Padre Pio writings:
It is like what might happen to a poor little shepherd boy who found himself btought into a royal chamber where was an infinite number of precious objects such as he has never seen before. On coming out of the royal chamber, the little shepherd would undoubtedly have in mind all those beautiful and valuable objects but would certainly be unable to say how many there were or to name them correctly one by one. He would like to tell others about all he had seen; he would muster al his intellectual and cognitive powers to do so, but finding all efforts useless to make himself understood, he would prefer to keep silence. This is what usually happens to my soul, which by divine goodness alone has been raised to this degree of prayer. ( Letters I, 518)
From Padre Pio writings:
The things which are taking place at present are so secret and private that anyone who has not himself experienced them could never, never form even a faint idea of them … it is now God himself who acts and operates directly in the depths of my soul, without the ministry of the senses, either interior or exterior. ( Letters I, 509)
From Padre Pio writings:
In this state my soul is happy for it feels it loves its dear God and at the same time experiences his love in a very delicate way. All I can say of this present state is that my soul has no concern for anything but God. I feel my whole being concentrated and recollected in God, to such an extent that all the faculties even in their very first movements turn naturally and almost spontaneously to God, rushing towards him instinctively. More often than not in this state my soul is occupied with God and does things concerning him without even noticing that it is doing all this for him. ( Letters I, 509 )
Edited by Melchiorre of Pobladura and Alessandro of Ripabottoni.
English version edited by Father Gerardo Di Flumeri O.F.M. Cap. II Edition 1984