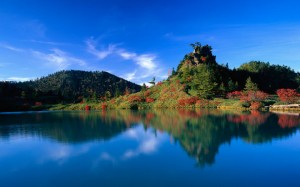 – Only in God rests my soul -
From Padre Pio writtings:
As you should know that the soul's greatest misery is when it doesn't feel weak, but feels strong; when it trusts in itself; when it is over-confident. Oh! if only all souls could experience such a holy weakness, we would not see so many souls fall at every instant. A soul who felt its weakness and had recourse to God for help, has never fallen. ( Letters III, 72 )
From Padre Pio writtings:
On the contrary, the soul is only defeated and overcome when, trusting in what it believes to be its abundant stregth, thinks it can always sustain and bear temptations. Thus it happens that the poor thing, out of presumption, believing it was touching the heavens, suddenly finds itself falling right to the doors of Hell. ( Letters III, 72 )
From Padre Pio writtings:
Do not fear … but rather, have greater confidence in divine mercy. Humble yourself before the mercy of our good God and thank him for all the favours he wants to grant you, and for all those he has granted you up to present. gratitude requires this and we could never worthily show our gratitude to He who has enriched us with so many favours … continue to pray … may you be animated in all this by the prize that awaits you, which will not be far away. (Letters III, 73)
From Padre Pio writtings:
You imagine that your powerlessness harms you, and it seems to you that this powerlessness prevents you from withdrawing into yourself and from moving closer to God … He wants our miseries to be the throne of his mercy, and your powerlessness, the seat of his Omnipotence. Tell me, my good daughter, where did God put Samson's strength? Wasn't it in his hair (Judg 16:17), his weakest  part? Well! Don't let me see my daughter fall into such grave error any more!; this daughter who wants to serve her God according to his will, and not in accordance with her sensitive tastes … no … your impotence has not prevented you, nor does it prevent you from withdrawing into yourself, but rather, it prevents you from complaining within yourself. ( Letters III, 180 )
Letters III edited by Melchiorre of Pobladura and Alessandro of Ripabottoni.
2nd Edition 2001 – edited by Father Gerardo Di Flumeri O.F.M. Cap.