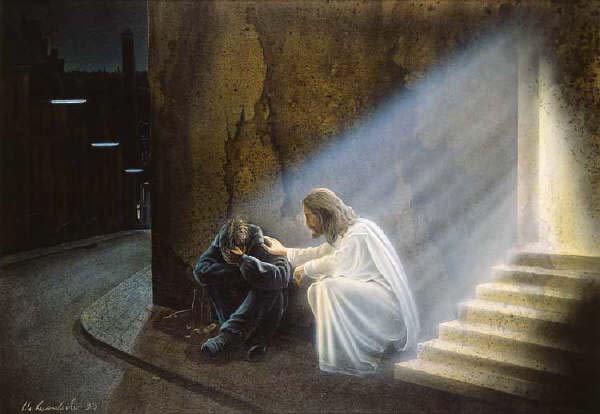 - No fear on your mind -

From Padre Pio writings:
May Jesus always be at the centre of your heart, to fill it and make it abound with his holy love … Long live Jesus … this is the inner thought by which we must live and die. Have no fear as regards your spirit, because it is absolutely not true that you have taken the wrong path. The path you tread is the one that will lead you to Heaven. And it is all the safer because Jesus himself takes you by the hand.  Do not upset yourself at spiritual aridity and desolation.   On the contrary, be consoled in spirit,and remember what our Lord said : Blessed are the poor in spirit (…) blessed are those who hunger and thirst for righteousness. (Mt 5:3-6)  (Letters III,269)

From Padre Pio writings:
During this state of aridity and desolation of spirit, don't worry if you are unable to serve God as you would like. While you adapt to His wishes, you serve him according to his will, which is better than yours. What does it matter to us whether we belong to God in one way or another? In truth, as we seek nothing but him, and we do not find him any less whilst we are walking on the waters of perceptible consolations, we must, therefore, be content with both paths. (Letters III,270)
From Padre Pio writings:
Live tranquilly in your present state also. Rise above yourself with frequent ejaculatory prayers and aspirations of the heart which are true, continual prayers. And bearing physical and moral ailments is the most worthy offering you can make Him who saved us through suffering. The framework of your life, then, my dearest daughter, should have no further reason to cause you to fear and be dejected in spirit. Jesus has pardoned everything with the fire of his holy love. (Letters III,270)
From Padre Pio writings:
Let us pray and beseech God to let us understand his will. Let us see to it that our will desires nothing at all except his. Live tranquilly without anxiety or agitation of heart. When we meet for the first time, God will be merciful towards us if he pleases. Lift up your heart, I beg you. Your state of soul is enviable and there is no reason to fear. Therefore, don' t fail to keep present to the eyes of the divine Bridegroom. Let your soul expand before this divine Sun and don' t  fear its burning rays, otherwise the cocoon will not open, and the beautiful butterfly will not emerge. Always be simple, because true simplicity is always good and acceptable to God.               (Letters III,321)
Letters III, edited by Melchiorre of Pobladura and Alessandro of Ripabottoni.
English version, second edition, years  2001, edited by Father Gerardo Di Flumeri O.F.M. Cap.