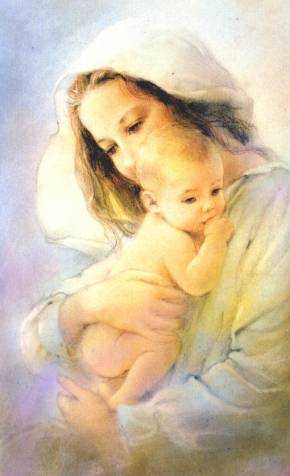 – Marian -
From Padre Pio writings:
Here we are at last in the month of beautiful Mother once again … This dear Mother continues to lavish her maternal care upon me, especially during the present month. She takes care of me to an exceeding degree …                                                                                                          What have I done to deserve such delicacy ?  ( Letters I, 401/402)
This most tender Mother in her great mercy, wisdom and goodness has been pleased to punish me in a most exalted manner by pouring so many and such great graces into my heart that when I am in her presence and in that of Jesus I am compelled to exclaim:  " When am I ? Where do I find myself? Who in this who is near me? "  I am all aflame, although there is no fire. I feel myself held fast and bound to the Son by means of this Mother, without seeing the chains which bind me so tightly. A thousand flames consume me; I feel I am constantly dying, yet I am still alive. ( Letters I, 402)
From Padre Pio writtings:
Don't worry; abandon yourself to the divine heart of Jesus and leave all your cares to him. Always place yourself last amongst those who love the Lord, considering everyboby to be better than you. Be humble with others, since God opposes the proud and given grace to the humble. The more graces and favours grow in your soul, the more you should humblr yourself, always maintaining the humility of our heavenly Mother, who, the very instant she became the Mother of God, declared herself to be the servant and handmaid of the same God.                     ( Letters III, 52)
From Padre Pio writtings:
May Jesus be always in your mind, in your heart and before your eyes. May he invariably be your beginning, your continuation and your end and absorb your entire life into himself. May Jesus Mother and ours obtain for us from her Son the grace to live a life entirely according to the heart of God, a completely interior life altogether hidden in him. May this most dear Mother unite us so closely with Jesus that we may never allow ourselves to be enraptured or lured away by anything belonging to this despicable world. May she keep us always close to infinite sweetness, to Jesus. Then alone will we be able to say with St. Paul that we are sons of God in the midst of a depraved and corrupt nation. ( Letters I, 677)
Letters I, III, 2nd edition year 1984, 2001 edited by Melchiorre of Pobladura and Alessandro of Ripabottoni.
English Version edited by Father Gerardo Di Flumeri O.F.M. Cap.